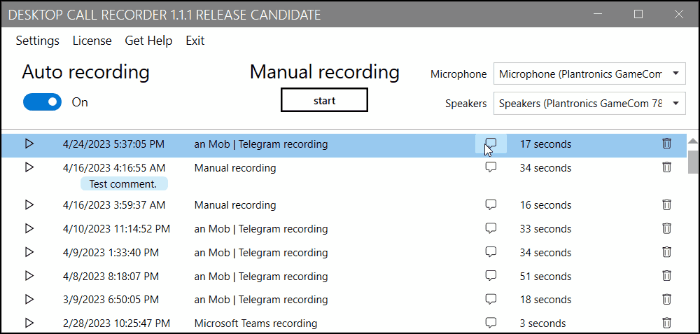 Introducing a valuable new feature for Desktop Call Recorder, the user-friendly software that allows you to record calls made from your computer. This latest addition enables you to add comments, memos, or notes to your recordings, making it much easier to identify and distinguish them later on. In just a few simple steps, you can take advantage of this convenient functionality.
To get started, follow these easy instructions:
Locate the comment icon next to the recording's auto-generated name in the Desktop Call Recorder interface. See screenshot.
Click on the comment icon, and a small edit box will appear. This is where you can input your desired text. You have the option to either type in your comment directly or copy and paste it from another source.
Once you have entered your comment, you can save it by clicking anywhere outside the edit field or by pressing the Enter button. Your comment will now be attached to the corresponding recording, providing a helpful reference for future use.
The ability to add comments and memos to your recorded calls offers numerous benefits, such as:
Improved organization: By adding personalized comments to your call recordings, you can easily distinguish one call from another, making it simpler to locate specific calls when needed.
Enhanced recall: Attaching memos to your recordings can serve as a useful reminder of the call's content or purpose, ensuring that important information is not forgotten or overlooked.
Greater efficiency: By reducing the time spent searching for and identifying specific calls, the comment feature allows you to focus on more important tasks, ultimately increasing your productivity.
Don't miss out on this opportunity to enhance your call recording experience – try adding comments and memos to your recordings today!